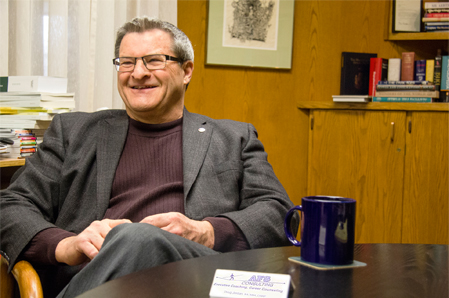 Doug Jordan is the Principal in AFS Consulting, providing assistance in management effectiveness, career counseling and process facilitation.
Credentials
Academic and Related Training:
BA, Economics & Politics
MBA, Queen's University
Advanced Human Resources Executive Diploma, University of Michigan School of Business
Institute in Group Facilitation
Certified MBTI, Campbell Interests and Skills Survey, InQ, SDI and EQ-i, PDI Profilor; Booth 360
Certified Member of HRPA for more than 30 years (CHRP/CHRL (Certified Human Resources Professional/Leader))
Member in good standing in Canadian and International Positive Psychology Association
Employment History
AFS Consulting, Principal/Owner 1993 – Present
Phillips Group of Companies, Principal 1991 – 1993
Mitel Corporation, AVP Human Resources 1986 – 1991
Husky Injection Molding Systems, VP Personnel 1985 – 1986
Atomic Energy of Canada Limited, GM HR 1979 – 1985
Counseling Experience
Delivered hundreds of counseling sessions to managers and employees in career development and individual Management Effectiveness. He has written two career planning manuals and a 360° Feedback Management Profile of his own design.
He taught Organizational Behaviour for CHRP and MCP candidates at Algonquin College and Carleton University for 10 years.
Nominated for HR Vision Award for Excellence as a supplier of coaching and counseling services.
About Off The Wall
Doug is a firm believer in the use of humour when it comes to management, training, and team building.
Check out his blog for his annual Groundhog Day comics featuring Wiarton Willi, as well as other animated nuggets of humour. Read More >
The Dynamics of Management
by Doug Jordan
Get to the heart of Effective Management with Doug Jordan's classic book.
This book is intended for people who are curious about management, career and life effectiveness. To be an effective manager, you have to find emotional and intellectual pleasure in the art and psychology of understanding and influencing others' behaviours.
Career Management Workshop
by Doug Jordan
A workbook to help individuals think through what they want to achieve in their careers, and their lives. Includes exercises, questionnaires and information to challenge a person to think, build a long term career plan, then inspire him or her to act to execute on their plan.
Job Search Workshop
by Doug Jordan
A manual to assist anyone – new entrant to the workforce or someone who has lost their job – define themselves and manage their job search campaign. Helpful self-assessment exercises in personality preferences, skills and accomplishments, values and objectives for a career, and converting this into effective resume design; how to market oneself through research, networking, application letters; interview skills and techniques and negotiating an offer; and finally, wrapping up you campaign.